It's no secret that finding the perfect pair of tights, a pair that stays up feels comfy and won't rip as soon as you slip them on, feels like an impossible mission. Worse perhaps is shapewear, anyone who has dabbled in the world of shapewear knows for a fact that it's often one hell of a painful ride. So when we heard we were going to try out their tights and shapewear, we were very excited!
A few of us had heard about the brand, but huddled around a computer we went on the Heist website. The result was a chorus of girly gasps going "tights in 7 shades!" "Wow, I'd actually wear this shapewear!" "Oooh, actual stretch marks!" and many more "Ooh's" and "Aah's". To say our first impression was good, is an understatement.
Heist: About The Brand

With an outdated portrayal of women and a lack of product innovation, it seems that the undergarment industry is stuck in time. Until Heist joined the game and really, like really, shook things up. They started with a pair of tights, creating a range of 7 shades of nude tights to match different skin colors. Then came Shapewear, which they refreshed with both style and comfort. Their latest product range is socks, but we've heard that much more is to come. They aren't done shaking up the industry just yet.
Their brand image is one we'll vouch for
It takes just a few minutes on their website or Instagram to feel that this is a brand truly worth getting excited over. Everything from their images to their size guide is glowing in body positivity, something that is very important to us at Fashiola. After all, tights are worn by most women and some men, so the brand image should reflect that. We also love the style of the photos in which the models look super comfortable and confident, without having them feel like they are meant for the male gaze. To top it all off, they're not photoshopping away the things we've been made to feel insecure about like our stretch marks, making us online shoppers much more comfortable and confident.  
 Their tights come in 7 different shades

Part of their innovative approach to crafting undergarments is that they test their products on actual people. This is how their tights come in 7 different shades of nude, as they worked and tested it on 100,000 women to determine – what is nude actually?
This means you can find a perfect match to your skin tone, and we're in awe of how well this works. My Italian colleague tried on the 030 shade of nude and went up to every single one of us asking if you could tell she was wearing tights or not. A pretty fun game if the outcome is "huh no I don't see anything" every single time. Not to sound dramatic about a pair of tights, but it feels like a world of opportunities has opened up to us. A world where summer dresses can work when it cools down without lessening their charm with thick black tights. A world in which nude tights are actually nude and not 5 shades too light.  
They Offer Serious Comfort

Ok so these tights, we can't get over how comfortable they are. They sit perfectly on the waist without digging and the crotch doesn't end up at your knees after a few hours of wear. They also take 3cm off of your waist, which is just pure sorcery as you seriously wouldn't be able to tell by how it feels when you have them on. To add to all that, they just feel super soft, like dipping your legs into pots of melted butter, but you know, chicer. 
The brand is known for using innovation from sports and space to create high-quality garments. This is how the shapewear has HeroPanels for example, which mimics your body and compresses where you want it the most. Basically, it sculps without making you feel like you can't breathe. Mind. Blown. 
Their Shapewear is not the kind stuck in the 60s
So for those of us not used to shapewear, it does really shape you, so it might surprise you at first how snug it feels around your waist. But don't be afraid, snug yes, uncomfortable? Absolutely not. Nope, this is not like the corset-like shapewear of our nightmares. It does look like your waist and body are sculpted, but at the same time, it doesn't completely change your body - which we love as well.
Not only is it much more comfortable than the restricting options that came before this, but it's also just simply stylish. We love the design details of the Outer Body, the shapewear bodysuit. The top part is super elegant with thin straps and no underwire, giving it a classic and natural feel. Besides wearing it under a tight dress for just a little bit of extra confidence, it's stylish enough to wear as outerwear. We love the look of them with a pair of high waisted jeans and underneath a sheer blouse.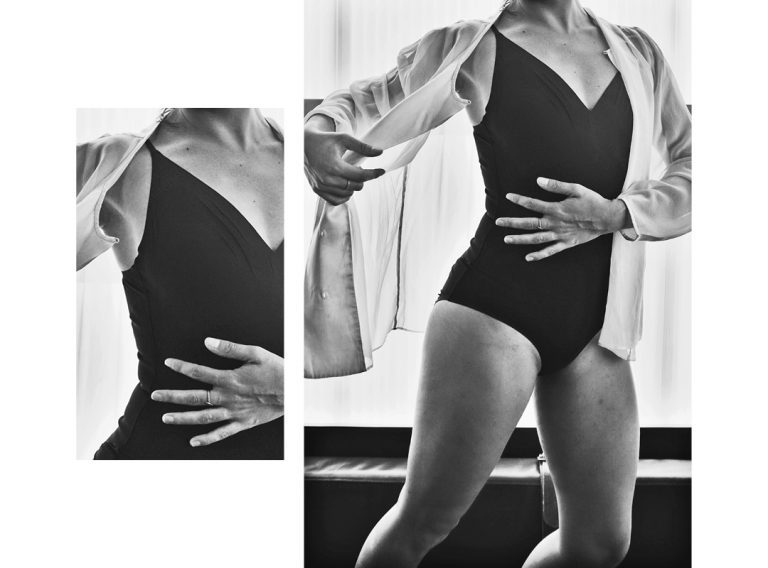 If you're looking for some new hosiery or shapewear we'd seriously recommend trying Heist. The outer body comes in a few different colors and in addition to those amazing nude tights we tried, they also have black tights in 30, 50 and 80 denier. Have a look here and find the tights and shapewear of your sweet, sweet dreams.